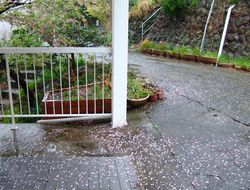 Since this morning we have a strong wind and a heavy rain in Shimoda.
Kawazu Sakura blossoms next to the entrance are fallen by them.
This cherry blossoms falling is telling us the end of Kawazu sakura season at last, and the real spring and the another kind of Sakura will be coming in Izu peninsula.
It's getting warmer and warmer in Shimoda.