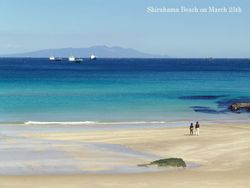 Have you ever seen the blue sea like this?
Today we had a strong west wind in Shimoda, but the water was shining blue.
When I was taking photos on the road some girls said,
"Oh, great. This beach makes us excited!"
You can get the blue water like this in Shimoda, 3 hours driving from Tokyo.
You don't have to go to the southern islands to see it.
Kids friendly accommodation: Pension Sakuraya in Shimoda, Japan