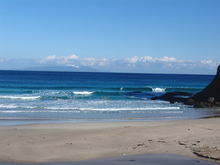 I was looking forward to today's weather.
It was cloudy everyday last week, so I could not take a photo of the beach.
But I was very happy that I could do it at last.
Look on the top of that island!
Yesterday they had a snow, so the top of Izu Oshima island is snowwhite.
This is a 3rd time that Miharayama mountain in Oshima island has snow in this winter.
Our guets who checked out today went back to Tokyo after driving on the western side of Izu peninsula, but probably they could see Mt. Fuji from western Izu, because the air was really clear in this afternoon.
They are very lucky!!