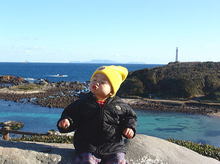 Since yesterday afternoon, it has been sunny and beutiful in Shimoda.
Today my son Yuuki, my wife and me went to Tsumekizaki in Shimoda to see "Suisen Festival", the flowers of Narcissus.
In this photo we can see the light house on the cape, small creek and Izu seven islands in Pacific ocean behind my son.
Suisen flowers are blooming but …….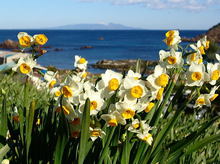 It is 50 or 60 percent of ordinary year in these days.
We could see more flowers than last January, because we did not have many rainny days on last October and November, and it is very cold this winter.
That's why the flowers could not grow up enough.
However we were satisfied very much, because we could see beutiful view with blue sea and pretty flowers under the sunshine.
The nature gives us the peace of mind and happiness, right?