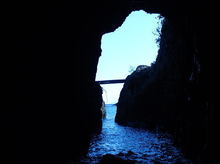 Today it was very warm, so I went to this place to take a photo.
I walked down the small road in the bush from Route 135, there are big rocks and I can find this cave.
(You can see the photo of rocks and sea, that I took last January in the main page of our website.)
It is a really fantastic place here, but probably most travellers do not know it.
Do you know where it is?
I would like to tell you this place, but I can not do it in this weblog.
Because we have to go through the private garden to get there.
In Izu peninsula there are some caves, for example "Tensoudou"cave in Dogashima of Western Izu. We have to use the tour boat (Japanese page) to see it. It is 920 yen per adult and 460 yen per child for 20 minutes tour.
And I can show you the another place in Shimoda, it is "Ryuuguukutsu cave". I call it "A Secret Cave". There is a sand ski area next to this cave too.
There is a parking lot (Free: except July and August) and it takes about 20 minutes from Shirahama.
Why don't you go there to have a exciting time?