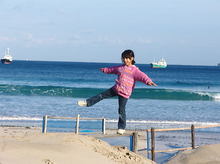 "I am going to take a picture at the beach from now."
"Do you take it for today's weblog, dad ?"
As recentry my daughter, Akari is checking my weblig up everyday, she said so soon.
Today it was sunny in Shirahama after one week, I went to the beach when I went to pick my dauthers up to the school.
When I was taking pictures of the sea, my daughter, Hikari was playing on the sand like this. So I requested her one thing…..