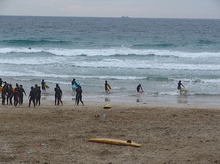 " It will be sunny this afternoon." the weather forcast said, but actually it was almost cloudy at all.
I am very sorry that our guest from Italy could not see beautiful Shirahama beach.
When I went to the beach, there were many lifesavers who were students of university and were practicing.
Besides they are all women !! I was really surprised.
By the way I show you today's my son, Yuuki, …….