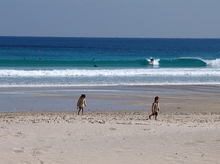 It was sunny for a short time yesterday, but today it was a beutiful all day n Shirahama beach.
The waves were in good condetion too today, so many serfers were challenging to the waves.
On the other hand, there were many travellers who probably came to Izu to see Sakura festivals.
When I went to the beach, there was a family. And two children were playing without clothes for the winter. It was really warm today.
By the way I am going to show you today's my son……