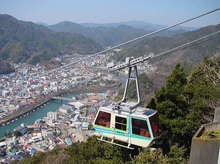 When we went shopping to Shimoda, we went to "Shimoda Nesugatayama Ropeway" with my wife, my daughter and my son.
In Japan we, Japanese, call a Cable car "Ropeway".
There is a ropeway station in front of Shimoda train staion.
And it takes only 3 minutes and half to the top of mountain…..