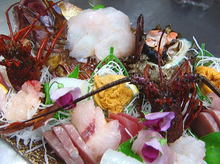 We sometimes serve this dish of "Sashimi" when our guest order it for dinner.
Today's contents are Kasago, Tuna, Sea Urchin, Squid, Katuo, Ise ebi and etc…..
These contents are changed depends on fishes which fissherman has.
Befor serving it I took this photo because it seemed really delicious.
The price of this dish would be 3,000 yen
for 2 people.
Would you like to order it ? …….