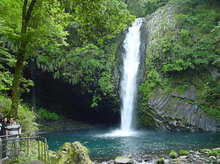 This is a most famous and biggest water fall "Joren-no-Taki" in Amagi in Izu peninsula.
In Japan, most of Japanese know this fall, because a Japanese singer "Sayuri Ishikawa" sing about this fall in her song.
That's why a lot of people want to visit this fall to see it.
This fall is 25 meters high and 7 meters wide and selected one of 100 falls selection in Japan. ……