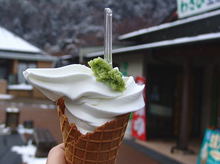 Have you ever eaten this ice cream ?
When I went to Amagi I found this "Wasabi Soft Cream" at "Michi no eki" which is one of Rest areas.
Recently we can see and eat Wasabi ice cream at many places in Japan, and most of them is mixed with Wasabi.
But they provide it topping Wasabi on the top of vanilla soft cream.
Yes, it was really fantastic and lovely taste !!……