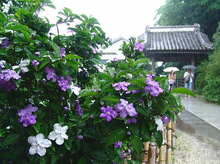 Today It was rainny day but I went to "Ryosenji Temple" in Shimoda, and I found a lot of flowers blooming.
Now "Jasmine Festival" is taking place in this temple, and about 1,000 trees of Jasmine are blooming on both side of a small path.
From today "Black Ship Festival" is held in Shimoda city, so many foreigners were in the city…..