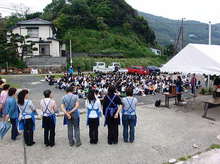 In Shirahama we accept a lot of students of Junior high school, who come to have experiences of nature of Shirahama every year.
Yes, this is similer to a summer camp.
Today, the first school of this year, 200 students came from Yokohama, and stayed for one night.
This is a picture that I took an openning ceremony in Itado area of Shirahama.
And they started to observe a sea after lunch. …….