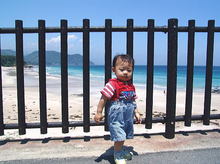 Today it was a really beautiful day !!
Besides it was very hot, the sun gave us great sunshine.
When my wife, son and I went to Shimoda, I took this picture at the bus stop "Shirahama Kaigan" with my son, Yuuki.
While I was taking a picture he cried "Umi, umi !!"many times. "Umi" means "Sea".
Then I show you the picture of today's beach. …