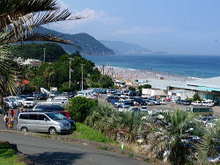 "I have been coming to Shimoda every summer these 20 years, but it was first time to have an experience of the big traffic jam in Shimoda."
"It usually takes about 15 minutes by car from Kawazu town to Shirahama, but took 2 hours today !"
Our guest who arrived at Sakuraya this morning said so.
"Walking was faster than driving on route 135 today."
Today was Sunday, during Obon holidays and beautiful summer day, that's why they had a traffic jam. …..