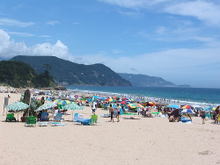 Yes, when I went to Shimoda for shopping I took these picture at Shirahama beach.
Actually I was going to post it soon but we are very busy and tired every day in summer, so I couldn't do it.
Well, in spite of that Obon holidays were over there were a lot of people in the beach.
I took this picture in front of Family Mart.
I am showing you the another picture which I took on Route 135……