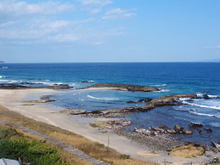 Today it was cloudy in the morning and sunny in the afternoon.
After my wife came back from Shimoda I went to the beach with my son Yuuki.
In Shirahama there are 2 beaches called "Ohama" and "Chuou".
We can get to Chuou beach from Ohama beach by walking along the beachside, and it takes about 20 or 25 minutes.
But we took a car today as we didn't have enough time…..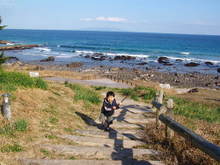 There is a free parking lot except July and August near the beach.
After we parked our car we started to walk down the staircase to the beach.
As we had a sunshine today and it was very warm my son was happy and excited.
Yuuki couldn't go out in these days because of rain.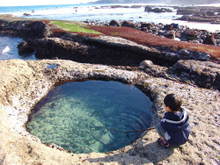 When we got to the beach it was just 3:00 PM.
Today the low tide was 2:47 PM, so we could see a lot of rocks there.
I was taking some pictures and my son called me,
"Look at this, dad! There are something swimming in the water!"
Yes, some tide pools are appeared on the beach at low tide.
The fishes are left by low tide and we can find them in this pool.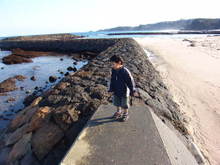 In summer the water of this tide pool is very warm by sun and the children play in this water.
After that we started to walk again.
There are some banks to protect from the big wave and there is a sady beach on the right side and rock sea on the left side.
At high tide we can snorkel there and find many fishes in case we don't have a big wave.
Pension Sakuraya in Shimoda