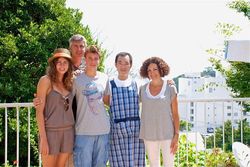 We got an e-mail with photo today.
They came from France and stayed at Sakuraya for 2 nights on August 5th and 6th.
During their stay it had been sunny and they were able to go to the beach for swimming.
We hope we would be able to meet you someday again.
Thank you very much for staying at Sakuraya and sending photo!