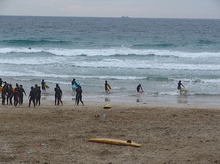 " It will be sunny this afternoon." the weather forcast said, but actually it was almost cloudy at all.
I am very sorry that our guest from Italy could not see beautiful Shirahama beach.
When I went to the beach, there were many lifesavers who were students of university and were practicing.
Besides they are all women !! I was really surprised.
By the way I show you today's my son, Yuuki, …….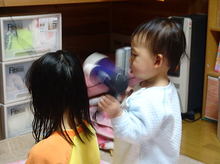 After taking a bath my wife and my daughter usually dry their hair with drier, and recently my son wants to do same things.
Tonight he did do it like this too, but he did it very well in spite of that he is stll one years old !
Does he want to be a hairdesigner ?
I know it depends on him !!