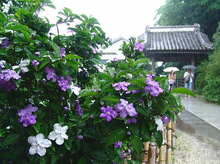 Today It was rainny day but I went to "Ryosenji Temple" in Shimoda, and I found a lot of flowers blooming.
Now "Jasmine Festival" is taking place in this temple, and about 1,000 trees of Jasmine are blooming on both side of a small path.
From today "Black Ship Festival" is held in Shimoda city, so many foreigners were in the city…..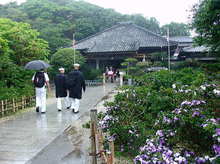 When I went to this temple, I saw 3 sailors landed from the battle ship of U.S Army which is out of Shimoda harbor.
Not only them but also many Japanese were there to see this temple and the flowers, and said,
"Wao, what a beautiful flower is it !"
"Sweet smell !!"
This event is taking place from May 11th to 31st, this year.
You can see the other pictures that I took today, and get the informations and pictures of Ryosenji Temple below,
Links:
Jasmine Festival at Ryosenji Temple in Shimoda