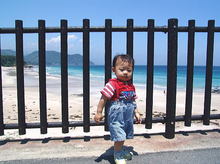 Today it was a really beautiful day !!
Besides it was very hot, the sun gave us great sunshine.
When my wife, son and I went to Shimoda, I took this picture at the bus stop "Shirahama Kaigan" with my son, Yuuki.
While I was taking a picture he cried "Umi, umi !!"many times. "Umi" means "Sea".
Then I show you the picture of today's beach. …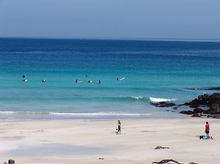 Today's color of the sea was really emerald green !
The blue sea and white wave were gorgeous !
I can't believe that it had been cloudy last week.
I regret that the students from the United States couldn't see this beautiful sea of Shirahama.
Since I am very happy that I could take good pictures, I am showing one more picture.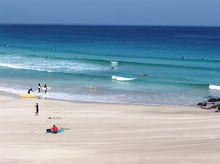 My family and I have ever been to Ishigaki islands in south area of Okinawa, we saw same sea like today.
I think that my children are very happy, because they can live here in Shirahama seeing this beautiful sea and getting sunshine.
The weather forcast says that this good weather continue in these 3 or 4 days.
Why don't you come to swim to Shirahama ?