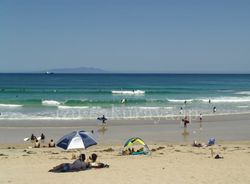 Yesterday it was sunny but we had strong wind here in Shimoda.
But today we didn't have strong wind, and the air temperature was getting higher and higher.
Yes, it was almost summer.
When I took pictures there were a lot of people swimming, surfing, walking on the beach.
I wanted to swim today…..
Click here to see the other 9 photos which I took today.
Pension Sakuraya 4 minutes walk from the beach "Shirahama" in Shimoda, Japan