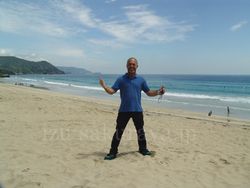 He came from France and stayed at our Pension for 1 nights.
I was surprised that he brought his own surf board from France!
Yes, he is a surfer and came to Shimoda for surfing.
The sea water was a little bit cold for him to surf without wet suit, right?
After Shimoda he went to Kyoto, and Okinawa for surfing.
Did you have good waves in Okinawa?
Thank you for staying with us.