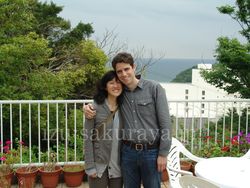 They came from the United States.
She has come to Japan several times, but it was a first time for him to vist Japan.
When they came to Shimoda the Blackship festival was taking place, so they went to the downtown to see the fireworks display and the Japanese drum performance in the evening.
On 2nd day they rented surf boards and wet suits at the surf shop in Shirahama and went surfing.
Before coming to Shimoda they went to Kanazawa and Osaka and went back to the U.S after Shimoda.
How was the long flight and journey to the U.S?
Thank you for staying with us.