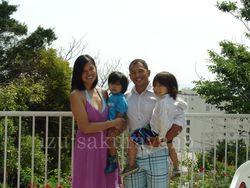 This family have been in Tokyo, Japan for 3 years, but came to Shimoda for the 1st time.
They went to Shirahama beach after check-in, and spent their 2nd day on Sotoura beach.
How did you like the beaches in Shimoda?
We could have a very good time with you, and look forward to meeting you again.
Thank you for staying with us.
Pension Sakuraya in Shimoda, Japan – 4 minutes walk away from Shirahama Beach