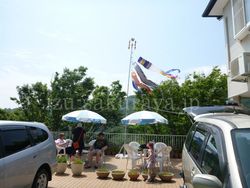 We have displayed Koinobori (carp streamer) when it was sunny and we had customers because My 5th was a boy's day in Japan.
Today, it is windy and a good condition for them.
But this weekend it would be the last chance for them to swim in the sky, I think.
Next week they will go to bed until next April!
I took some pictures on Shirahama beach and Sotoura beach today.