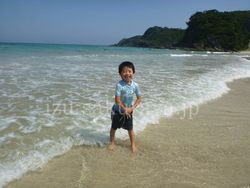 I went to the nearest beach "Shirahama" to swim with my son this afternoon.
It was sunny and very hot like summer here in Shimoda today.
After we arrived at the beach we jumped into the water soon.
The water is definitely getting warmer day by day.
I've been wondering this season the water temperature is higher than usual.
Click here to see the other photos which I took on the beach today.
Video taken on this beach today
Pension Sakuraya 4 minutes walk to Shirahama Beach in Shimoda, Japan