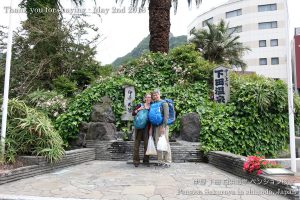 They came to Japan for the 2nd time.
They are traveling for 3 weeks and went to Kanazawa, Takayama, Miyajima, Nagasaki, Kagoshima, Yakushima island and some other places.
And they came to Shimoda from Kotohira in Kagawa prefecture and stayed with us for 3 nights.
It had been almost sunny and went to the beach every day.
Thank you very much for staying with us.
P.S When I went to the station to pick my daughter up I took them by my car.