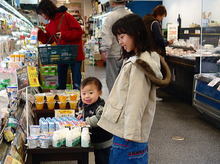 Today my wife, my children and me went to Shimoda for shopping.
I sometimes go to supermarket with my son. When he was baby, I bought holding him. But he recently wants to walk in a supermarket by himself.
Probably he wants see and touch everything.
By the way I found one thing that I want to introduce….
This is it !
This is "Takikomi Wakame" in Japanese, it means dried seawead with solt.
A small company in Shimoda is making this.
We sometimes use this with sesami to make a rice ball.
It is really delicous with the smell of the sea.
Do you like a riceball ?
Why don't you try it ?