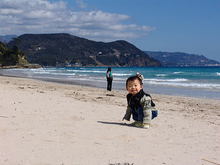 Today it was very warm in Shirahama.
I felt a summer a little when I was in a car.
On the route 135 there were a lot of cars of the other prefecture, because now we are in a long holidays in Japan.
Before going to Shimoda my son, Yuuki, and me went to Shirahama beach…..