From yesterday, the students who came from the United States are staying at Sakuraya.
Today, on a second day, they had Exploring and Sea caving at Shirahama beach.
So I got into their exploring in this afternoon.
They started to walk from south area of the beach.
In this picture the professor are explaining about the sea animals and the other things on the rock….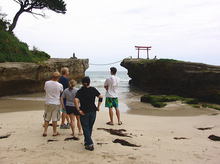 This professor knows a lot of things about sea and sea animals in detail.
After walking on the sand they arrived at the end of Ohama behind Shirahama shrine.
There is a red gate of Shirahama shrine on a big rock, and white rope setting between 2 rocks.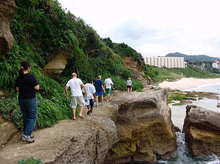 They walked on the rocks behind Shirahama shrine and got to the opposit side, "Chuou beach".
And after that, they started today's main menu "Sea caving" there.
They walked and swam under this rock in the sea and got into the cave.
Yes, I know there is a big cave here, but surprised that they found this cave.
Because it is difficult to find it !!