Today it is 3rd day for the students from the United States.
This morning I went to the beach to get crabs with students, professor and his assistant.
Of course this is a first time for them to get crabs by bamboo stick, but when we started it one of them caught the crab at first. ……
After all we, 5 people caught the crabs more than 40.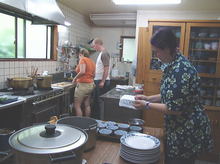 So after coming back from the beach, I started to cook with 3 students in my kitchen.
Yes, they helped us to cook.
We made the crabs boiled and Miso soup.
These were very delicious !!
By the way they checked-out on May 25th.
Thank you for staying at our Pension Sakuraya.