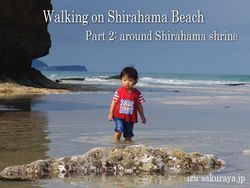 Today Shirahama Beach Walking Guied Part 2 was completed.
In these web pages I was going to use the photos with people or my families, and I was looking for the good photos for each place.
I have a lot of photos which I have been taking in Shirahama since 10 years ago.
I selected some photos for this guide, but actually it seems like my lovely son's photogallary.
Check out Shirahama Beach Walking Guide from Part 1
You can click the links to go to Part 2 down this page.