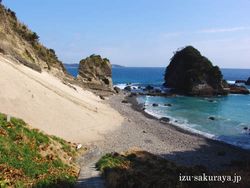 Today it was sunny and very warm in Shimoda.
Then I decided to go to Shimoda downtown by bike.
First of all I didn't decide where I go after that, but I dexided to go to south part of Izu peninsula.
After Shimoda downtown I went the Kisami Beach, and arrived at the Touji Beach.