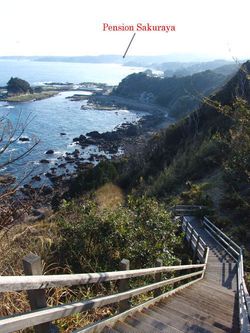 Today it was warmer than yesterday.
After I prepared the room, bath and everything for our customers I went to Ogasaki Wing to take pictures for the webpage "Walking Guide in Shirahama" on our website.
The distance between Sakuraya and Ogasaki Wing is about 6 or 7 kirometers, and it takes about 1 hour by walking.
Before getting to Ogasaki Wing there is a steep staircases like this photo.
It was really hard to climb up this carrying the bike on my shoulder.