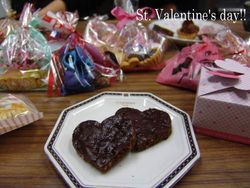 Today my wife gave me and my son this chocolate cake.
Yes, it was St. Valentine's day today.
In Japan a lot of women have been giving a chocolate to men who they love for a long time.
But recently they, women give a chocolate to not only men in love but also men not in love.
It means the women give a present to the people around, for example, colleagues or friends though they don't love them.
In addition, especially in these days men give a present to women.
In Japan St. Valentine's day was made by confectionary companies long time ago and was developped as a different one from the other coutries.