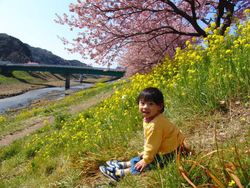 Yesterday we had an opening ceremony of Sakura (Cherry blossom) Festival here in Izu peninsula.
In Japan the most famous Sakura blooms in April, which is called "Someiyoshino".
But Kawazu Sakura is different from them and it blooms for about one month!
Yes, it is very famous for its long blooming and pink color.
This Kawazu Sakura festival is taken place from February 5th to March 10th in Kawazu town and Minami-Izu town every year.