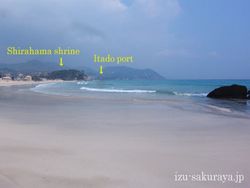 Yesterday I went to the nearest beach for walking.
It was very warm and comfortable for walking yesterday.
There were only 2 surfers in the water because they don't have good wave there.
I started to walk at the right side of Shirahama Ohama beach, and walked on the seaside to Shirahama shrine and Itado fishing port after that.
On the way there was a red gate "Torii" in Japanese on the big rock in the water.
I continued walking to the other side of Shirahama…..