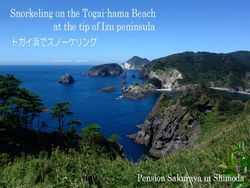 I have been thinking that I was going to go to the Togai-hama Beach to take photos since 3 days ago.
When I served the breakfast our customer this morning he said,
"Where is the good point for snorkeling?"
I told him some points in Shimoda, but I said to him,
"Oh, are you interested in snorkeling? I was going to go to the one of good points by accident, actually. Do you go with me? As we don't have any other customeres today I can take you there by  my car".
After breakfast we went to Togai-hama together by my car.
It was amazing point for snorkeling! we could meet a lot of fishes and found out the stingray as well!
Of course I could take a lot of good photos for our website.
Click here to see the photos which I took today.