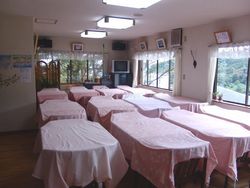 My daughter may caught a cold and has a fever around 37 degrees.
Because it had been really hot here in Shimoda until last week, but in these days it has been very cold every morning and evening.
Please be careful, everybody in Japan.
By the way all customers checked out this morning, and the long summer season was over.
After May 11th we have been worrying about this summer because of the earthquake and the nuclear accident, but we could have a lot of customers from all over the world during this summer and didn't have any troubles at Sakuraya.
Thank you very much for staying with us this summer.
Anyway, this morning we started to do a general house cleaning after the long busy season.
First of all, as we don't have any customers on these weekday we washed all bed covers and mats of the Western style rooms and dried them in the dining room!