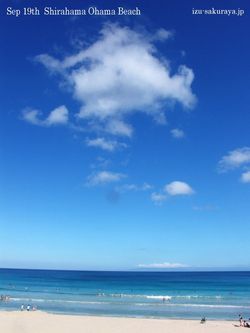 After taking pictures it is very difficult to select the pictures which I post on our website.
When I was cleaning up the guest rooms after check-out I could find out the blue sea through the window.
" Yes, they are inviting me today!!"
After 2:00 PM I went to the nearest beach "Shirahama".
Today it was really hot and humid, but the sky and the sea were gorgeous!!
I took a lot of pictures on the beach and this is one of best pictures today.
The white clouds were floating in the sky!!
Click here to see the other pictures which I took today.