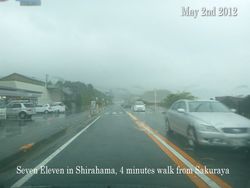 I took this picture in front of Seven Eleven in Shirahama when I went to the school to pick my daughter up this afternoon.
Now it's 1:30 AM on May 3rd we have a heavy rain and strong wind outside.
However, the weather forecast says it will be cloudy tomorrow and sunny after that.
It's a very good news for our customers during Golden Week.