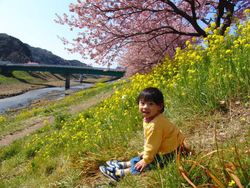 Yesterday we had an opening ceremony of Sakura (Cherry blossom) Festival here in Izu peninsula.
In Japan the most famous Sakura blooms in April, which is called "Someiyoshino".
But Kawazu Sakura is different from them and it blooms for about one month!
Yes, it is very famous for its long blooming and pink color.
This Kawazu Sakura festival is taken place from February 5th to March 10th in Kawazu town and Minami-Izu town every year.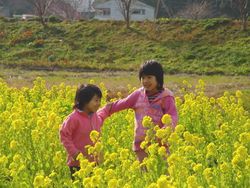 During this festival more than one million tourist visit these two towns.
They say that the best season of this year is after middle of February.
By the way I took the 1st photo at the river side in Minami-Izu town in March 2008.
My son was only 3 years old then. He was very cute!!
And the 2nd one was taken in the rape blossoms field of the same town in March 2003.
My daughters were 5 years old and 8 years old.
It is sweet memories for me and my wife.