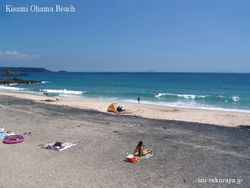 Have you ever been to Kisami Ohama Beach?
This beach also has a white sand and blue sea like Shirahama, but this summer it is a little different from usual.
Today, when I went to this beach and found out that the sand was black.
The typhoon took white sand away from this beach and the layer of iron sand was appeared after that.
But white sandy beach will be back in the future.
Yes, the nature is great!!
Click here to see the other pictures of Kisami Ohama, Shirahama and Tatado hama beach today.