Now it is 1:00 AM on February 18th.
We are having a heavy rain outside.
Today it had been almost cloudy here in Shirahama, but I took this photo.
Because the photos of blossoms would be better on cloudy day like today.
This is Kawazu Sakura, and it is already fully blooming.
I show you one another photo…..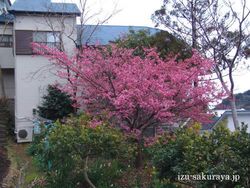 In our field we have another Sakura tree.
This tree has a different color of blossom, right?
About 18 years ago, when we went to Kawazu town to see Kawazu Sakura for the 1st time we were excited about them and wanted to get the baby trees of that kind of Sakura.
But it was difficult to buy it in those days, so we decided to get the seeds of Kawazu sakura.
However actually this seed had become a different type of Sakura like this at last.
In spite of this condition we love this tree very much!
Because this tree is really gorgeous.
In Kawazu town and Minami Izu town the Sakura festa 2011 is taking place, but they have very late blooming this season.
On their website they say it is about 20% blooming.
I think next weekend would be better to see the Sakura blossoms there.